Team building and company activities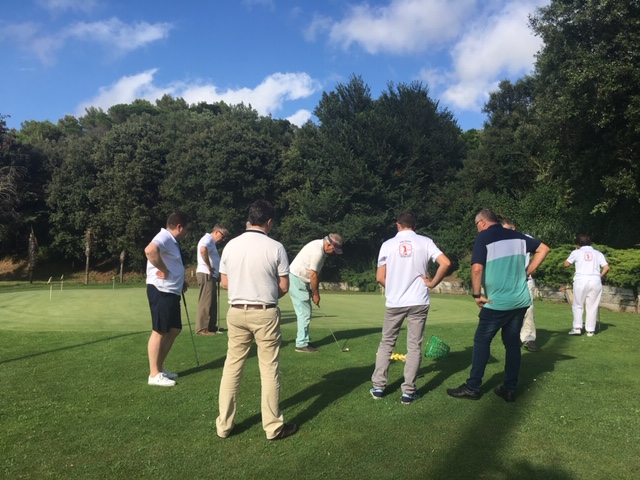 Pitch and putt Vallromanes also has a great offer for stages, team building and company meetings, both with clients and employees. To begin with, the location of this Pitch and Putt in an ideal place to disconnect and improve the relations between company and employee or company and client. The disconnection from the city hustle to spend a day in a natural place like the Pitch and Putt Vallromanes and the Serralada Litoral is a small parenthesis to the stress and the acceleration of the day to day of the city. The facilities of Pitch and Putt Vallromanes are ideal for company groups due to its extensive practice facilities.
The driving range has 30 shooting stands on two levels, 15 of which are covered. We also have a large putting green where several people can practice at the same time. The most important thing to highlight is the 27 holes of the course, as they offer the opportunity for people who are just starting out to try out some holes without breaking the rhythm of the players' daily game, as they would be playing a different course, something that is only possible in a Pitch and Putt of our characteristics. Our professionals, experienced in all types of teaching and large initiation groups, will guide clients and employees through the first steps of the golf path in a pleasant and complete way. The meeting room, located in the XVIIth century Catalan masía (country house), has capacity for up to 25 people and is an ideal place for company meetings. The golf activity and the company meeting can be combined with a lunch with a company menu in the well-known restaurant Can Maimó, located in the same facilities of the Pitch and Putt Vallromanes.
Pitch and Putt Vallromanes offers the organization of COMPANY TOURNAMENTS to promote the reputation of the brand or to make itself known within the golf and Pitch and Putt scene. The tournaments are tailor-made, and usually include an 18-hole pitch and putt competition, prize giving, distribution of material with the company's logo, drawing up rankings and handing out trophies.
Pitch and Putt Vallromanes will provide a quote for any company activity within a maximum of 24 hours.